Special Offers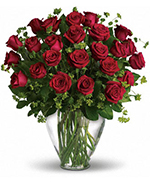 $

209.95
When it comes to romance, the red rose rules! And when it comes to delivering romance in a big way, two dozen gorgeous red roses are a brilliant choice. Twenty-four stunning red roses are arranged with greenery and delivered in a feminine vase. [...]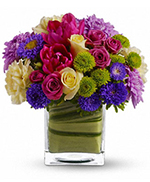 $

74.95
Oh, what a fine day it will be when you have this delightful spring bouquet delivered to someone special. Everyone will delight in the vibrant colors and bountiful blossoms, all thoughtfully arranged in a beautiful leaf-lined vase. Light yellow roses, hot pink spray roses, tulips and gerberas, yello [...]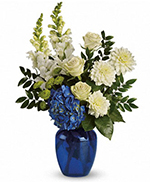 $

79.95
Sending this brilliant blue and white bouquet will surely garner oceans of appreciation from whoever receives it. Dazzling blue hydrangea, green roses and button spray chrysanthemums, divine white dahlias and snapdragons plus huckleberry arrive in a striking cobalt vase. [...]
Flowers have special meanings associated with them. Some flowers symbolize love and affection, and some represent friendship and peace. Flowers have always been a romantic gift and a sweet surprise, and they have been since the dawn of time. If you're looking for a way to express your love for someone, sending them a sweet surprise would be the best way to go about it.
Recent Products
Orchid
Orchids, also known as Orchidaceae, are a plant family that includes many gorgeous, aromatic, and blooming plants. Orchids are a diverse group of flowers that come in a range of shapes, hues, and color combinations. Plus, they have a wide range of therapeutic benefits too. For instance, they include antibacterial and phytochemical compounds that aid in the treatment of certain disorders.
Dahlias
Dahlias are another group of incredibly gorgeous flowers. Dahlias are garden plants that come in 42 different varieties. These flowers represent dedication, dignity, and an unbreakable friendship, which is why they make the perfect surprise bouquet for anyone. Dahlias are also a sign of loyalty and an everlasting union. Inner power, creativity, and grace are also represented by them. They are popular wedding flowers, not only because of their appearance but also because of their symbolic value.
Sunflower
Sunflowers, also known as Helianthus, represent happiness. They are well-known for their adoration and devotion as well as their bright colors. An interesting fact about sunflowers is that they are the only flowers whose name includes the word flower. Sunflowers are both one of the most attractive and often utilized flowers.
Lilies
Lilies are a group of flowering flowers that have a significant cultural and literary presence in most parts of the world. They are thought to bring good luck and are associated with rebirth and childbirth. Lilies come in a variety of colors, but white lily is the most popular choice since it represents purity and virtue. Both pink and red, Lilies represent prosperity and passion, whereas orange lilies represent self-assurance, affluence, and pride.
Chrysanthemums
Chrysanthemums, often known as Chrysanths or Mums, are blooming plants. These are a light yellow color. These flowers represent joy, happiness, optimism, longevity, fidelity, and love. Other key meanings are also represented by different hues. However, in several countries, they denote sadness and are regarded as a symbol of death. In these countries, the only time Chrysanthemums are given during a moment of sadness or grief.
Gerberas
The gerbera daisy is a flower that represents beauty, innocence, and purity. This flower's vivid, vibrant hues are its most notable feature since they represent energy and regeneration to many. Its colors promote youthfulness and joy, which spread throughout people's daily life.
Flowers are exquisitely crafted by nature to entice people. They are pure and auspicious and are the best gift to offer to your loved one. Flowers also improve the mood and increase energy levels, making them the perfect sweet surprise in Lubbock.